Doogie White - Rock Vocalist

Doogie White is first and foremost a professional singer. He works constantly and is usually on tour or recording with bands and artists throughout the world. His career has seen him work in small, intimate clubs through to session-work on albums and commercials and all the way up to world-class rock bands on world tours.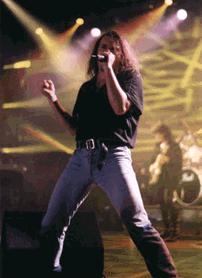 Last word to Doogie:
"People ask me 'Why don't you stick to one band full-time?' I would love to have one stable band that would write, record and tour on a continual basis, but the reality is rather different. I make my living from my voice, this is what I do. It interests me to work with different musicians, especially guitarists, because they stretch you to your limit and every day is different. I like that challenge. I take all my work very seriously whether it is recording a backing vocal session or an album for a major artist. Lets face it I have been doing this for 2 decades, touring the world and making music with some amazing artists from different places. I am a very lucky man."
Site content © Doogie White 2009.