Doogie White - vocalist with Ritchie Blackmore's Rainbow


After finishing with Midnight Blue, Doogie did some recordings with Jan Cyrca and also with the Kulke brothers in a band called Sole Asylum. Doogie also toured Japan for the first time fronting at two weeks notice with NWOHM band Praying Mantis, who had lost their singer just prior to the tour.
It was around this time that Deep Purple were playing in London.
"I was really broke and have always been a huge Purple fan. So a mate sorted me out with gig ticket and an aftershow party pass."
Whilst at the party, Doogie passed a tape of some songs he had recorded to Colin Hart, the band's tour manager, with the words "If Ritchie ever needs a singer . . ."
Then, one night after he returned from a gig in Germany, someone had left a message for him. It was from a certain Ritchie Blackmore.
"I got home and someone had left a large note on my bedroom door proclaiming Ritchie Blackmore's secretary had called."
Doogie called back and the next thing he knew he was on a plane to the USA and auditioning for the most prized gig in rock.
" I was slightly nervous, who wouldn't be...I mean it was The Man In Black...but I did know all his back catalogue and I knew some of it probably better than he did. We just turned on the Marshall and launched into some Purple and Rainbow songs as well as Beatles and Jeff Beck tracks. I was supposed to be there for 3 days but stayed for a week, jammin and writing...very happy days.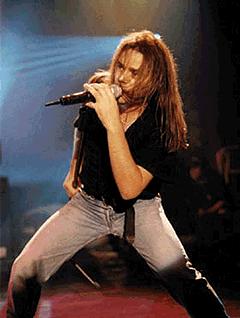 It had the desired effect: Doogie was hired as Rainbow's fourth and possibly last vocalist, and so began three very special years singing with the man he calls simply "The greatest guitarist of his generation".
Interviewed on Japanese television, Ritchie had this to say about Doogie's talents:
"Doogie came across with…um…I felt he had a range. He's very versatile. He had like a two or three octave range. Because I find myself wanting to play the blues but at the same time wanting to do something to stretch out so you can get some more theatrical music in which incorporates a higher register. That's why maybe I change vocalists a lot because one moment I like someone that can sing low, but if they can sing low then that's it, I want to move on to something else, to a higher register. So…um…I tend to go with someone who has a long range. And he does have a long range."


They recorded what many consider to be one of the best Rainbow albums - Stranger In Us All - and Doogie was favourably compared to the legendary Ronnie James Dio in both style and substance. It marked a return to their classic rock form for Rainbow after the more "pop" feel of previous outings. The album sold 100,000 copies in its first week of release in Japan alone and the fantastic "Black Masquerade" was voted "Best Song of the Year" in a Burnnn! Magazine reader's poll.
"It was important for us to get back to that heavier Ritchie Blackmore and Rainbow sound that had inspired so many including me over the years" said Doogie of the album. Read about the making of Stranger In Us All here.
After the release of Stranger In Us All they then embarked on a series of sell-out tours of Europe, the Far East and the USA where Doogie's range allowed Ritchie the freedom to include numbers from all of the previous Rainbow vocalists as well as selected Deep Purple numbers. Those who saw these shows agree that Ritchie Blackmore was playing at his most relaxed and possibly his best ever.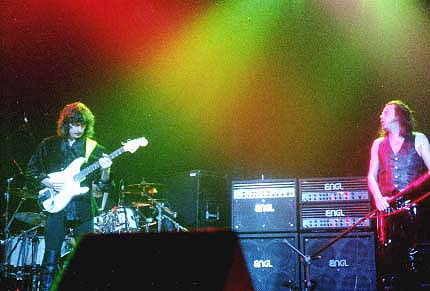 Work was proceeding on a second album when, apparently fed up with heavy rock, Ritchie Blackmore turned his attention to Renaissance and medieval music, a lifelong passion of his. Without warning Rainbow was disbanded once again, after playing a final concert in Esbjerg, Denmark in 1997. Ritchie, together with his now-wife Candice Night as vocalist, then formed the Renaissance-influenced Blackmore's Night who, as of 2009, are still recording albums and performing "quietly" – completely in contrast to Rainbow's volume filled shows.
Last word to Doogie:
"Everyone is always looking for gossip about what happened in Rainbow but I will have no truck with any of that. Ritchie Blackmore was, and is, one of my all time favourite musicians. I loved my time with Rainbow, from sitting in a freezing barn in Massachusetts rehearsing and writing Stranger In Us All to touring Japan. Man, I used to pay to listen to him play and then all of a sudden all I had to do was look to my left and there he was riffing like a maniac six feet away...how cool is that? What many people don't get about Ritchie is his sense of humour and fun. He does things simply for his own amusement at times and he is very, very funny when he wants to be. People criticise him for not playing rock anymore and often blame the influence of others in his life, but to be honest I reckon that Ritchie is the kind of man who does exactly what he wants no matter what others say or think. That takes immense self-confidence and belief. There are lots of 'fans' who judge the man because of his larger-than-life persona but they have to understand a few things about that: first he has been a rockstar since he was seventeen years old with all the pressures and madness that brings; next he is unquestionably a genius and there isn't a genius born who isn't a little...shall we say..complex; finally, yes!! if he called tomorrow, no matter what went on in the past, I'd work with him in a heartbeat. Just like every other ex-Rainbow vocalist would. But I aint holding my breath..."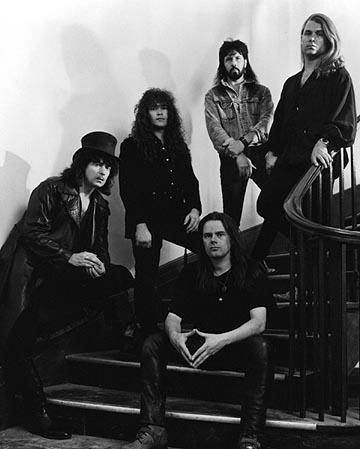 Read a full History of Ritchie Blackmore's Rainbow here.