Doogie White - vocals with Cornerstone
Such was the acclaim for the debut album Arrival that the record company offered the band a better deal for 2 more albums.


In 2002 "Human Stain" was released with Doogie contributing to the songwriting and saw the band moving to a heavier direction. The album was a product of a fertile collaboration between the like minded musicians and it proved very popular with rock fans and critics alike, turning up in a great many peoples "Album of the Year" list for 2002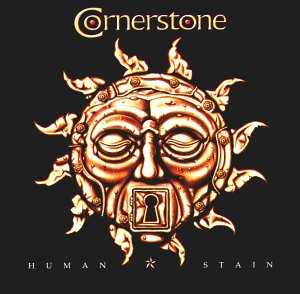 With the arrival of "Once Upon Our Yesterdays", Cornerstone reached a new heights of song writing, musicianship, performance and production. The variation of the songs, melodies and lyrical content, coupled with interesting arrangements and superb production from Mogensen add to the stellar vocals from Doogie. With Damgaard, Sorensen and keyboard player Rune Brink turning in world-class performances, this is an album worthy of inclusion in any rock fans' collection.


In 2006 Cornerstone released their last album to date. "Two Tales of One Tomorrow" which saw an even darker edge coming into the lyrics of the band.
The band toured in 2007.
"Two Tales was a difficult album to make from a personal point of view lyric wise. I was angry and that is a good emotion to tap into. We always try to challenge ourselves and our fans. there are some curve balls on the album and thats what keeps the band fresh. 'We are the Dead' is a perfect example of this"
2009 sees the band writing for a brand new album to be released in 2010

Last word to Doogie:
"Cornerstone has been a real labour of love for me and for the rest of the guys. It has been difficult at times because of my schedule but we get along so well musically and personally that we just keep coming back to it. I am really proud of the work I have done to date with the guys and we have plans to do more. Watch this space..."
Site content © Doogie White 2009.